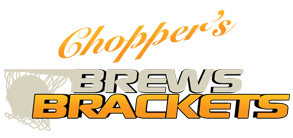 Entries are no longer being accepted. Head to your nearest Tavern to watch the games. Our Contest Leaderboard will be updated regularly as the games are completed.
HOW TO PLAY / DETERMINATION OF WINNERS
Introduction
In Brews 'n Brackets Contest, participants select which team they believe will win each game in each round of the Men's NCAA College Basketball Championship Tournament bracket. Selections are made via a javascript enabled web page. Entry is free but requires a unique code (please see Contest Rules). This link will direct the user to the game website where he/she will be able to register for the game and make, or change, their picks. Once the tip-off of the first tournament game on Thursday, March 16, 2017 ("Round 2") occurs, no changes will be allowed for the Bracket Challenge. Selections for the first four games of the Tournament ("Round 1" March 14-15) will not be factor in the scoring of this contest. These teams will be listed together on the entrant's bracket for the ability to select them as the winner of a Round 2 game.
Leaderboards will be posted throughout the Tournament.
Scoring
Points are accumulated based upon correctly picking the winning team in each round. Points are awarded as follows:
Bracket Challenge Points
Round 1: These play-in games will not be a factor in the Bracket Madness Contest.
Round 2: 1 point for every correct pick
Round 3: 2 points for every correct pick
Round 4: 4 points for every correct pick
Round 5: 8 points for every correct pick
Round 6: 16 points for every correct pick
Round 7: 32 points for the correct pick

The entrant with the highest total accumulated points will determine the winner. Tie-breakers will be used if necessary by entering the total number of points for the Championship Game. The first tie-breaker used to determine the winner of the tie-breaker shall be the closest entry to the actual number of combined points scored in the Championship Game without exceeding the number of points. If necessary, the second tie-breaker used shall be the participant with the most number of correct picks for the Round 1 games. Subsequent tie-breakers will continue with the number of correct picks by the participants for Rounds 2 through 5 as necessary. In the event that a tie still exists after exhausting all of the previous tie-breakers, names of the remaining participants will be written on pieces of paper and placed in a drawing. The first name selected will determine the tie-breaking winner. Additional names will be selected until all winners are determined.
Contest Rules
Must be 21 to enter. While supplies last. Prize packages are non-transferable. Grand prize package includes airfare to and from Las Vegas, one room at Mandalay Bay resort and shuttle service to and from Las Vegas airport. All winners will be selected from entrants at all Tavern locations, Chopper's Sports Grill and Whiskey Tango Foxtrot. THG is not responsible for any mistakes made by contestants during bracket entry and submission. No purchase necessary.THG employees and their families are not eligible for prizes. Full contest rules, bracket scoring system and details available at www.tavernhg.com.